Burden of Malaria in Africa
Malaria, the deadliest disease in Subsaharan Africa
Malaria remains a major health problem in many endemic countries but is mainly a sub-Saharan African (SSA) disease, where 93% of the worldwide 228 million malaria cases occurred in 2018. Plasmodium falciparum is almost entirely responsible for the high burden of malaria in SSA, accounting for 99.7% of morbidity and mortality. Vulnerability to malaria reflects a lack of adequate immunity against malaria. Immunity is built up through repeated Plasmodium infections in endemic areas like SSA.
About Us
The MIMVaC-Africa consortium is a large interdisciplinary consortium formed by leading vaccine developpers, clinical trial experts and malaria researchers with knowledge in management of large clinical data sets and in regulatory procedures.
The consortium is comprised of ten complementary organisations from Africa, Europe and Asia and is coordinated by the Groupe de Recherche Action en Santé (GRAS), Ouagadougou, Burkina Faso. Partner organisations are in Gabon (CERMEL), Germany (EKUT and EVI), Japan (OSU), Luxembourg (LIH), Mozambique (CISM), the Netherlands (LUMC), Tanzania (IHI), and the United Kingdom (UOXF/KEMRI-WT).
This consortium is receiving financial support from the European Union's European & Developing Countries Clinical Trials Partnership (EDCTP2), through the grant agreement No. RIA2018SV-2310
To ensure a successful management of the programme, the coordinating site is assisted by the Project Steering Committee (PSC) which benefits from the scientific and ethical advices of the External Independent Scientific Advisory Group (EISAG).
Our Objectives
The MIMVaC-Africa programme has two main objectives:
to evaluate pre-erythrocytic and blood-stage candidate malaria vaccines for safety, immunogenicity and efficacy against experimental and later natural challenge with P. falciparum and identify the most promising candidates for further clinical development in phase III trials.

to build and strengthen the capacity of African research institutions to evaluate candidate malaria vaccines using the CHMI model and adopt state-of-the-art technologies for assessing immune correlates of protection.
MIMVaC-Africa approach / strategy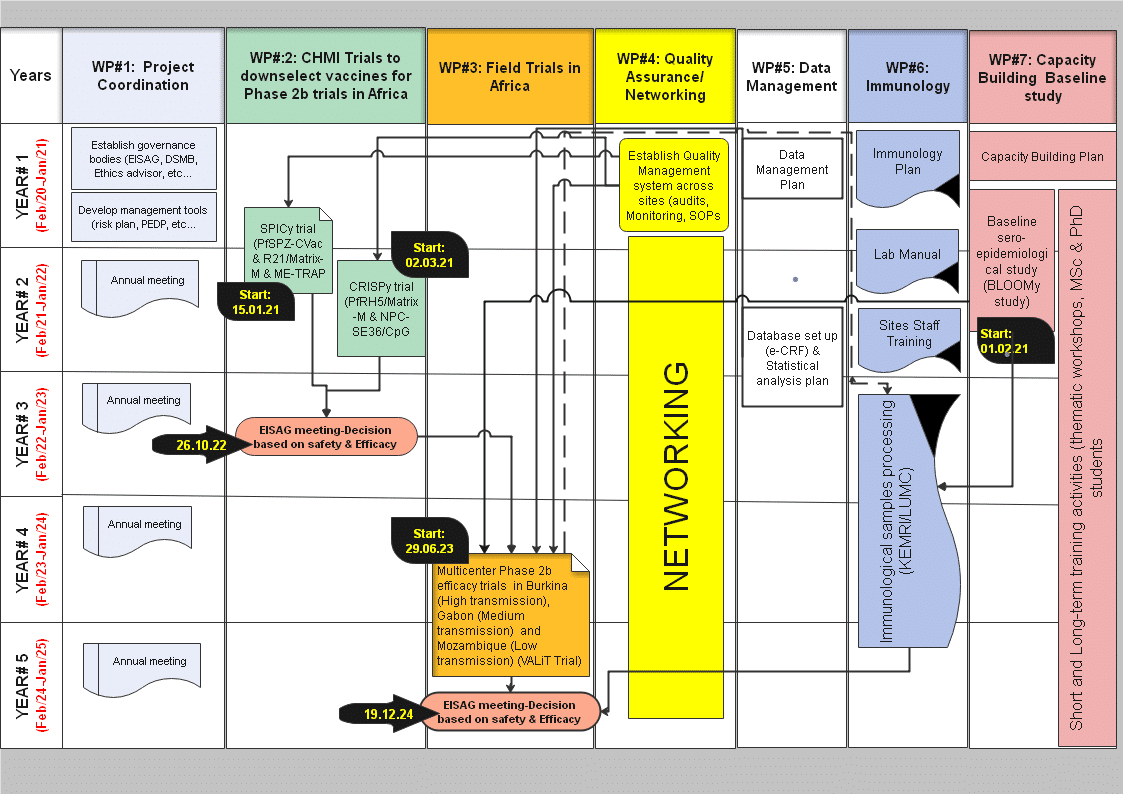 Our ambitious program aims to down-select malaria vaccine candidates towards a good malaria vaccine ready for late clinical phase development towards licensure beyond the project. The MIMVAC-Africa project starts with a set series of promising candidates (GMP material already available, confirmed good safety profile) that will be tested in CHMI studies. Superior candidates will then be tested in a phase 2 clinical trial to define the safety and the efficacy in African children, the target population.
Short listed vaccine candidates for potential entry into the MIMVAC-Africa program:
Pre-erythrocytic vaccine candidates
R21 combined with Matrix-M (Oxford University, UK)
Chemically attenuated whole sporozoite vaccine; PfSPZ CVac (Sanaria, USA).
ME-TRAP vectors (Oxford University, UK).
Blood-stage candidates
PfRH5 mixed with Matrix-M (Oxford University, UK)
NPC-SE36 mixed with cpG (Osaka University, Japan).
CHMI trials
The controlled human malaria infection (CHMI) studies in our program will consist of 1) immunizing the study participants with the selected candidate vaccines, 2) assessing the safety, and importantly, 3) assessing the efficacy of the candidate vaccine by deliberately infecting the vaccinnees with malaria parasites either by mosquito bite or by direct venous injection; if the study participant becomes parasitised, the  infection will be curtailed by an effective  antimalarial drugs. The most promising vaccine candidates will be selected for the phase 2 trial in Africa. This approach is very efficient as candidates are directly tested for efficacy from very early clinical development and that minimizes costs, shortens the vaccine development plan, and maximizes chances of success of vaccines candidates reaching the field in endemic countries.
Capacity building
This frame work of malaria vaccine clinical trials opens great possibilities and chances for caapacity building activities on all aspects related to the planning and conduct of the clinical trials in Africa. An extensive program of cross-fertilization and capacity building through MSc and PhD training programs, exchanges visits will accompagniy the clinical trials´activities. This will result into strengthening translational vaccine development platform capabilities in African sites and reinforce the clinical trial infrastructure.